Skate`n`paint
 got the chance to redesign the skatepark of Neulengbach. With this great project, it was a concern to give two exceptionally creative women a stage to set a "Female Powerment" sign.  Because of this, we invited Ju Mu and Gamze Yalcin to Vienna to add another colourful place to the city of Neulengbach. The whole process of changing the skatepark's ground took us about one week.
Gamze Yalçin / Photo: Paula Gvidal
Istanbul's street art culture has developed a lot the last years. One of the few female street artists of Turkey is Gamze Yalçin, who is now enjoying life in Berlin. She graduated at the Mimar Sinan Fine Art Universty (Istanbul, Turkey) with Interior Architecture as her main subject. She discovered the illustration world while working as an interior designer. This later became one of her biggest passions.
In 2010, she attended an international 6 months fellowship project organised by Dekeyser&Friends which focused on supporting a local NGO to improve the quality of living for garbage dump families in the province of Cebu (Philippines).
Hand drawn illustrations and paintings are aiming a wide variety of materials and objects. Many times it is her unique personal touch to interior design that attracted customers such as O Design, Adnan Serbest, La Paz Café Bar, The Marmara Bodrum Hotel, Rock'n Coke 2013, Sarman Tasarım, Maersk, All Décor, Living Store, Habitat and Adresistanbul.
Currently she works as a freelancer in interior and concept design as well as mural, illustration and furniture design.
This is how the skate park looked before its makeover. The very emotionless ground turned into a vivid connection space for people of all ages. Design-wise, Gamze chose abstract art to cover her part the asphalt.
Abstract art emerged at the beginning of the 20th century. It is characterized by the fact that artists increasingly move away from the representation of real figures, objects and situations in their work and make the works of art abstract.
Abstract art may be interpreted from within one's self. Other designations of abstract art are objective art and non-objective art. Whereas representational art represents the visually perceiving outside world, abstract art refers to the inner world. Its main aim is to trigger emotions when viewed. However, these emotions do not have to be static, but must be constantly changing. Colour and form are considered the most important building blocks of abstract art. They must complement each other and be in harmony.
Both artists received their own space to create their design. Throughout this article, you can see Gamze's and Jumu's approach and realization of their art pieces.
Photo: Sebastian @instant_szephon
With this project we got one step closer to our aim of making our world more colourful.
In order to open the successful work appropriately, Erik Cornelsson of the Sindelar Skate Club hosted a skate contest the day after completion. There,  spectators could marvel at the new jewel in Neulengbach for the first time.
iOnArt is very thankful for Moreboards' & MOLOTOW TM support throughout this project.
Gamze Yalcin, Ju Mu and Philipp Netolitzky
Spontaneously, Anya M. came from Toronto to Neulengbach and had a look over her shoulder during a workshop…
Anya Mielniczek is a Toronto based multidisciplinary artist who combines her fine art background with raw material grit in both private and public sectors creating mixed-media installations, mural work and facilitating community art activations.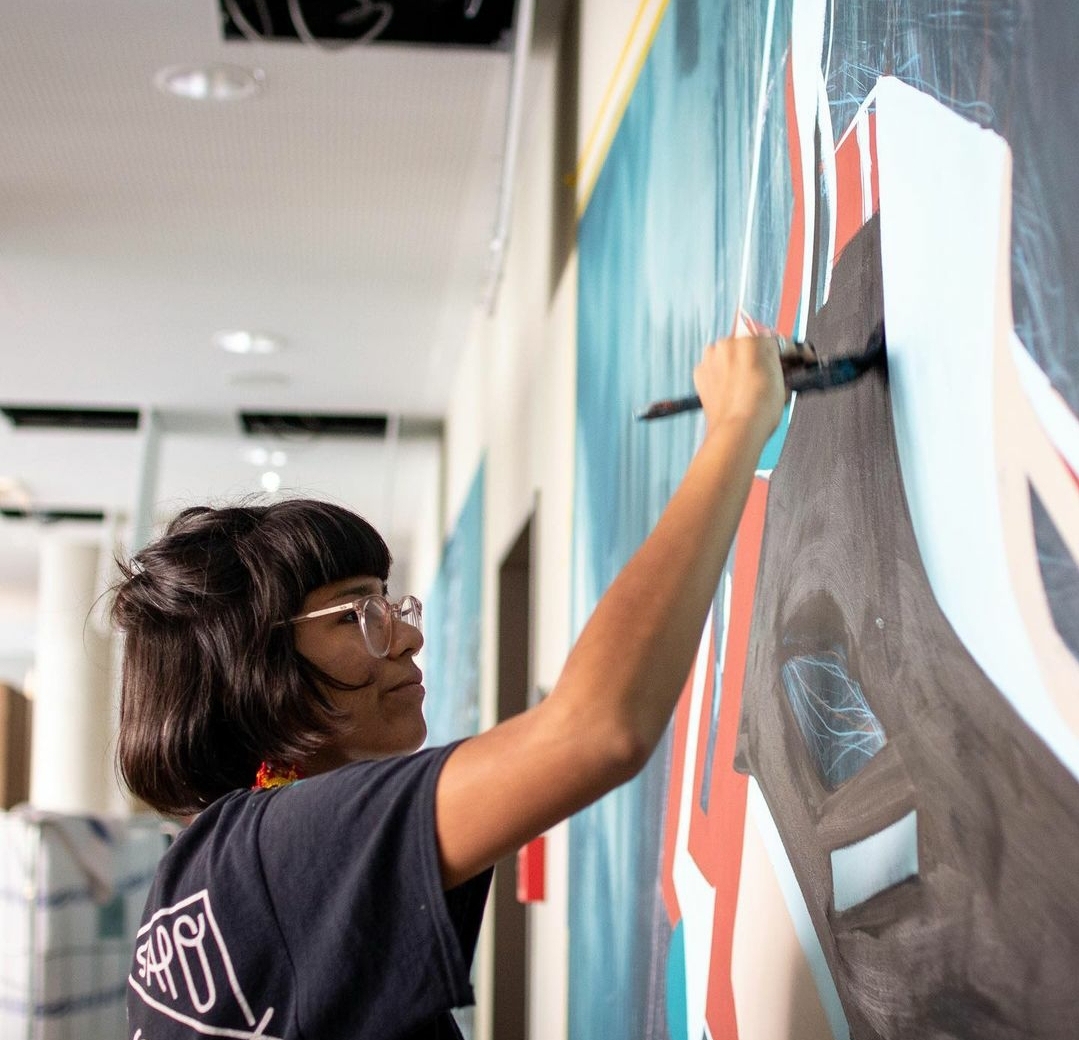 Ju Mu / Photo: slothmotion
Ju Mu grew up in Hanover with Peruvian-Chilean roots and got her degree in fashion design.
She now lives and works in Berlin as a freelance artist. Shaman cult and the connection between the spirit world and nature are characteristics and focuses of her work and serve as inspiration for her masks, canvases or costumes.
For her works she uses everything she can get her hands on to create a new, surreal world.
During the process of creating, we had to overcome some tasks, such as learning how to deal with the special paint and the difficulties of working in a rural area. Because this paint had a very unique texture, we were very limited in the creation process. It didn't really allow us to create detailed shapes. Not just that was an issue we had to face. While the paint was not completely dry, a farmer was combine threshing and delayed our working process for a couple of hours. The dust of the threshing dirtied the ground, which made it impossible for us to keep painting. Fortunately, the fire brigade was keen on bailing us out and enabling the continuation of our project.