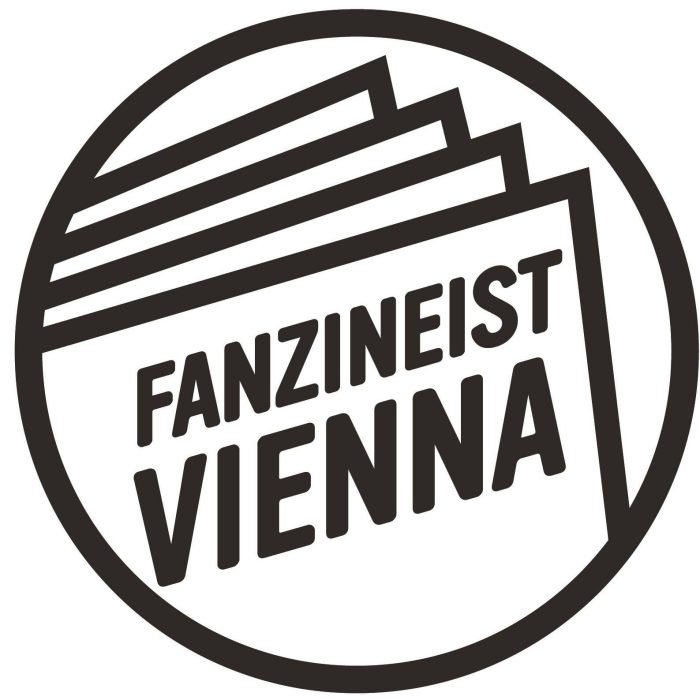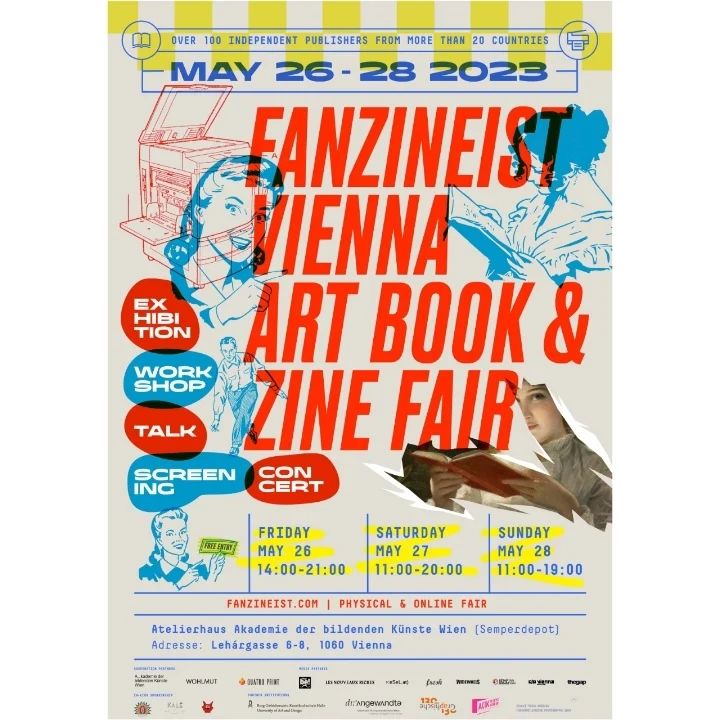 fair is free, "physical", online and open to the public
Fanzineist Vienna Art Book & Zine Fair is an annual international independent publishing event that focuses on presenting self-published publications and independent works of art, design, literature, culture, and more.
The fair is taking place May 26 ~ 28, 2023, at Atelierhaus Akademy "der bildenden Künste Wien (Semperdepot)" located at Lehargasse 6-8 Vienna. Whether attending in-person or online, visitors can expect to be immersed in a vibrant atmosphere, creativity and passion for independent publishing.
Among the exhibitors at Fanzineist Vienna Art Book & Zine Fair, there are some names : Present Books (DE), NFC Edizioni (IT), Teuntje Fleur (NL), Post Fire Books (FR), Antenna Press (USA), Irene Bonecrusher (ES), Verlag edition clandestin (CH), requetemiau (PE), Mariana y Raquel (CR, GT, CO), Vienna Zines (AT) will also be showcasing their works at the fair. With 111 ("physical") exhibitors and 20 online exhibitors from more than 30 countries, the Fanzineist Vienna Art Book & Zine Fair is a great opportunity for those who have interest for an independent publishing, discover new works, meet like-minded individuals, and learn developing. Visitors can expect/see a diverse range of publications, including zines, artist books, comic books, graphic novels, and much more.
In addition to exhibitors, Fanzineist Vienna Art Book & Zine Fair will also present a variety of events, including online exhibitions, talks, concerts, and workshops. These happenings will provide visitors with an opportunity to engage with exhibitors and  learn more on works on display. Join and have a look

Fanzineist Vienna Art Book & Zine Fair
26-28 May 2023

Atelierhaus der Akademie der bildenden Künste Wien
Semperdepot : Lehargasse 6-8
1060 VIE
opening hours:
May 26th 14:00 ~ 21:00
May 27th 11:00 ~ 20:00
May 28th 11:00 ~ 19:00.
party: Adress: Celeste / Hamburgerstraße 18, 1050 Vienna

public program consists:
workshop by Justyna Doherty;
performance of Provisional Art Space: Music And Scent In Performance by New York based artists Ron Hutt and Anna Novakov,
Dj & music performances by dj Ueberparadis,
Ali Riza Firat,
Guy Bosch, internetband,
TOAD, MAGNETIZER (Phantom Tapes),
Markos Sotirios,
Cem Erkmen (Wapi),
Laikka (Dj Set),
DJ DJust Benzes and Kobrakasino,
LIQUIDinfinity,
The Dark Opera and Michael Fischer,
video presentations & screenings by international independent publishers,
zinesters and many more.

non-profit art book & zine fair organised by
Deniz Beser & Dayan Ozan Ozoglu

fanzineistvienna@gmail.com
Lehárgasse 8,1060 Wien, Vienna, Austria