MANK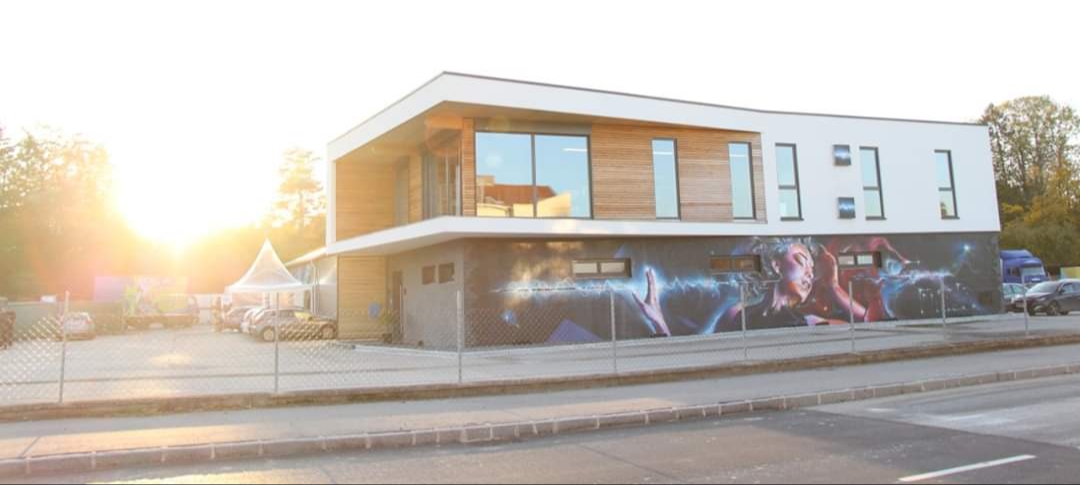 The facade of MADO event solutions was designed by international graffiti artists: Mr. Cenz (UK) just can't stop since 1988. He discovered hip-hop culture and graffiti art and has been obsessed with developing and experimenting with his style ever since. This is also noticeable in his lively and dynamic works. The quality of his various techniques and compositions are mostly concentrated in his interpreted portraits of women. On the façade on the street side the woman – is surrounded by sound – loses herself in the music, surrenders to the here and now and seems to be in a state of trance.
Like his comic images, Dante is fun for everyone. His style is a mix of typography, characters and colorful elements inspired by a variety of comics. This is reflected on the outer facade of the Bauhalle.
Illunis from Salzburg painted a bat hanging from the ceiling in the small interior, which is considered a symbol of luck in Cuba, and is associated with Mado's partner Bacardi.
Characteristic for Rico79 from Halle in Germany are his paintings with often urban influences of the city Jungel. The monkey with its shaking graffiti can, the wooden fence, the stone wall and the barbed wire are funny, thoughtful, critical and sometimes a bit provocative.
XYZ
Die Fassade von MADO event solutions wurde von internationalen Graffitikünstlern gestaltet: Herr Cenz (UK) kann seit 1988 einfach nicht mehr aufhören. Er entdeckte die Hip-Hop-Kultur und die Graffiti-Kunst und ist seitdem besessen davon, seinen Stil zu entwickeln und mit ihm zu experimentieren. Dies macht sich auch in seinen lebendigen und dynamischen Werken bemerkbar. Die Qualität seiner verschiedenen Techniken und Kompositionen konzentriert sich vor allem in seinen interpretierten Frauenporträts. Auf der Fassade an der Straßenseite verliert sich die Frau – umgeben von Klang – in der Musik, gibt sich dem Hier und Jetzt hin und scheint in Trance zu sein.
Wie seine komischen Bilder ist Dante ein Spaß für alle. Sein Stil ist eine Mischung aus Typografie, Figuren und bunten Elementen, die von verschiedenen Comics inspiriert sind. Dies spiegelt sich in der Außenfassade der Bauhalle wider.
Illunis aus Salzburg malte in dem kleinen Innenraum eine von der Decke hängende Fledermaus, die in Kuba als Glückssymbol gilt und mit Mados Partner Bacardi in Verbindung gebracht wird.
Charakteristisch für Rico79 aus Halle in Deutschland sind seine Bilder mit oft urbanen Einflüssen der Stadt Jungel. Der Affe mit seiner schüttelnden Graffiti-Dose, der Holzzaun, die Steinmauer und der Stacheldraht sind lustig, nachdenklich, kritisch und manchmal etwas provokativ.